Click Here to see Past Newsletters
Click Here to see Past Drivers of the Month
Spotted Lanternfly Certificate of Inspection (6/3/2019)
Spotted Lanternfly Permit (6/3/2019)
Transflo Mobile App; Spotted Lanternfly (5/31/2019)
April 2019 Drivers of the Month (5/21/2019)
May 2019 Newsletter (5/21/2019)
'Hard Enforcement' Insect Quarantine (5/8/2019)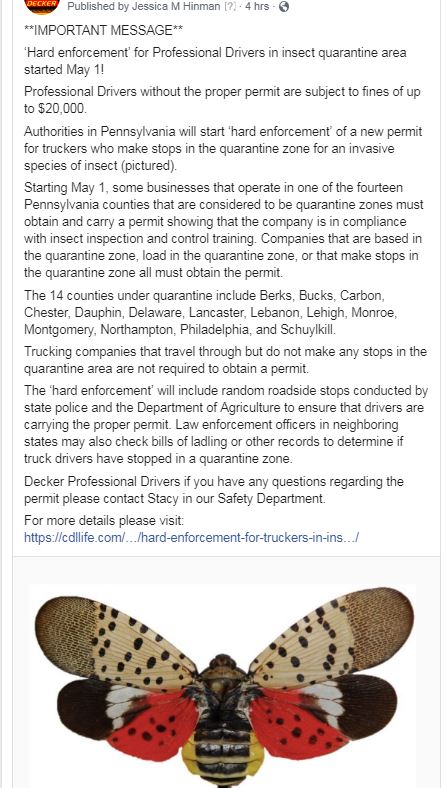 Decker Flatbeds: Change from using rope to only bungee cords (5/8/2019)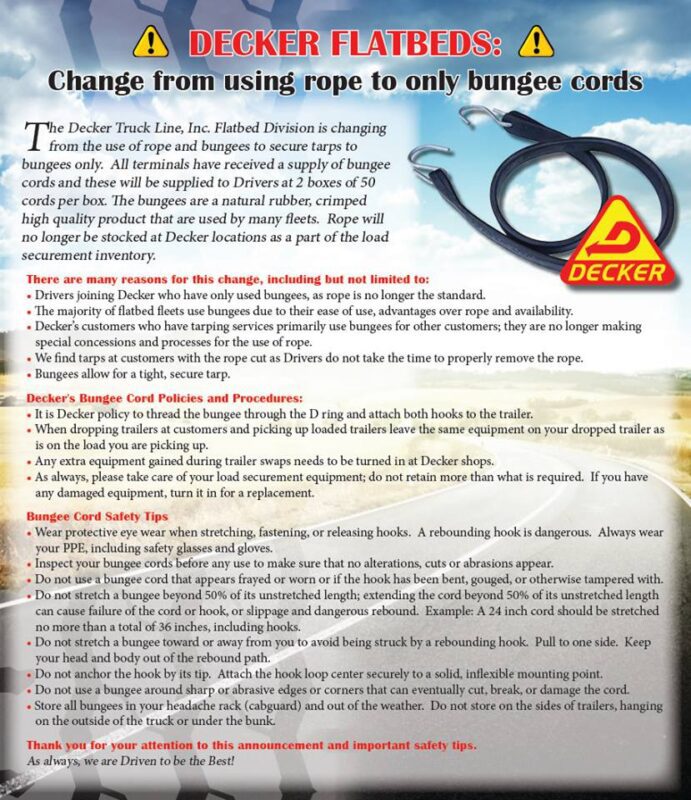 Springtime Scavenger Hunt (5/8/2019)
March 2019 Drivers of the Month (5/8/2019)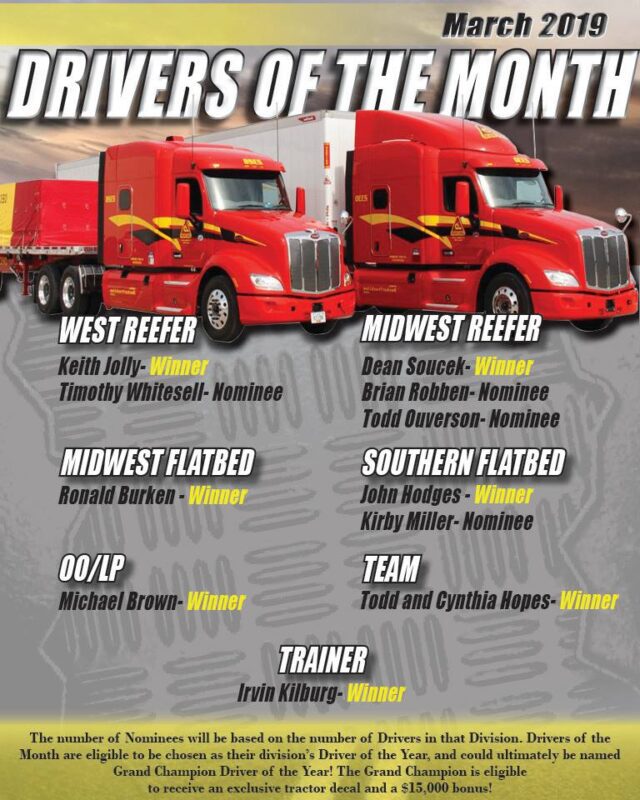 Legal Steer Axle Weight (5/8/2019)
Wells Fargo 401(k) Announcement (4/10/2019)
April 2019 Newsletter (4/9/2019)
ELD Transition (4/1/2019)
February 2019 Drivers of the Month (3/26/19)
2018 Driver Awards Ceremony (3/20/2019)
March 2019 Newsletter (3/1/2019)
January 2019 Drivers of the Month (2/22/19)
Safety First: Severe Winter Weather Alert! (2/13/2019)
February 2019 Newsletter (2/12/2019)
Social Media Outlets: Like Us And Follow Us! (2/11/2019)
Referral Program Update! (2/8/2019)
COLD WEATHER ALERT – DON'T FORGET TO TREAT YOUR FUEL (2/7/2019)
Celebrating January 2019 CSA Scores (2/6/2019)
2019 Professional Driver of the Month and Year Program (1/31/2019)
Pre-Trip Inspection Checklist (1/31/2019)
Prepare and be safe out there (1/29/2019)
December 2018 Drivers of the Month (1/25/19)
Truckers Against Trafficking (1/24/19)
January 2019 Newsletter (1/15/19)
Annual Driver Survey Final Drawing Winners (1/4/19)
2019 Driver Referral Program (1/2/19)
November 2018 Drivers of the Month (12/27/18)
Over n' Out Blackout Professional Driver Scavenger Hunt Winners (12/12/18)
December 2018 Newsletter (12/12/18)
Annual Driver Survey Drawing Winners (11/21/18)
October 2018 Drivers of the Month (11/20/18)
Annual Driver Survey Drawing Winners (11/15/18)
November 2018 Newsletter (11/8/18)
Over n' Out Blackout Scavenger Hunt (11/1/18)
Omnitracs Navigation Instruction Sheet (10/30/18)
September 2018 Drivers of the Month (10/26/18)
SmartDrive For Drivers (10/22/2018)
Safety First, Fighting Fatigue (10/10/18)
October 2018 Newsletter (10/8/18)
August 2018 Drivers of the Month (10/1/18)
Driver Appreciation Week was celebrated last week! (9/20/18)
---
Annual Driver Survey (9/19/18)
---
Driver Appreciation Week (9/5/18)
---
September 2018 Newsletter (9/5/18)
---
July 2018 Drivers of the Month (8/28/18)
---
Announcing First Annual Driver Survey and Partnership with Stay Metrics (8/27/18)
---
Michael "Chez" McChesney (8/21/18)
We are very saddened to share that Mike McChesney, Fleet Manager at our Missoula terminal for over 6 years, lost his courageous battle with cancer this past weekend. Our deepest sympathies go out to Mike's family and to our friends in Missoula. Please see the obituary below for more information.
Michael "CHEZ" McChesney
Michael C. McChesney, 61, of Florence, MT passed away from complications due to cancer Saturday, August 18, 2018 peacefully at home surrounded by family.
Funeral services for Michael McChesney will be held on Thursday, August 23rd at 5:00 pm at the Florence-Carlton High School Gymnasium, 5602 Old Hwy 93 in Florence, MT.
Michael McChesney, husband to Karla and father to Daniel and Kevin, was born May 17th, 1957 in Philipsburg, MT later moving to Missoula, MT and graduated from Sentinel High School in 1975. Mike spent most of his working career in the gas and welding products industry and in customer service and dispatch in trucking.
He lived a life that was full of joy, happiness, and a desire to help others. He dedicated much of his life to the youth sports communities in the Missoula and Florence areas. Little Grizzly Football and Florence Little Guy Wrestling were two of his greatest passions. He also spent many years coaching, refereeing, and organizing athletics across a multitude of activities. Outside of his youth sports involvement, Mike enjoyed camping, four-wheeling, huckleberry picking, Montana Grizzly Football, but most of all, he loved and cared for his family dearly, including his Decker family.
Mike was always good for a laugh first thing in the morning and his laughter was contagious and easily spread throughout the office.
Mike worked at Decker for just over six years prior to retiring in October of 2017. Even after retirement, he worked part time in Missoula to help his Decker family if they were short staffed at any time. That December is when he was diagnosed with cancer.
Mike is survived by his wife Karla; two sons, Daniel (Jasmine) and Kevin; two granddaughters, Madilyn and Ellie; siblings, Bill (Louise) McChesney, Kathy (Tim) Lape, Beth (Larry) Connell, and Ann (Luke) Cowan; in-laws, Earl and Barbara Vercruyssen; sister-in-law, Laura Vercruyssen; Aunt Helen McKillop; nieces and nephews, Sean and Ryan McChesney, Jason (Felicity), Matt, and Courtney Lape, Jamie (Jaie) Belanger, Mikey Connell, Josh (Brittany) and Jason Cowan, Amanda and Kyle Richie.
Mike was preceded in death by his parents, Harold "Mac" and Betty McChesney, two brothers, Bob and Dan, a niece, Heather McChesney, and nephew, Joey Connell.
---
"Why I Drive with Decker" Video Contest (8/13/18)
DECKER PROFESSIONAL DRIVERS: We want to know why you love to Drive with Decker! Send us a video of yourself, explaining what you love about Decker and what keeps you around.
Each entrant will receive a $15 Pilot gift card, and 3 winners will be picked from all the entries. The winners will each receive a $100 Walmart gift card.
Contest Rules
All contest rules must be followed to receive the $15 gift card.
When recording the video, you must be stopped, and either in your truck or have your truck in the background. Please make sure your truck is clean and presentable (inside and out).
Videos with any swearing/profanity will not be considered.
Video must answer at least 2 of these questions:

What do you like best about driving with Decker?
What's your home time like?
How do you feel about the pay and benefits you're receiving?
What's the Decker equipment like?
How are you treated by the Fleet Managers and office staff?
The winners will be chosen based on their attitude and accordance to the contest rules.
Submit your video to Decker Truck Line's Facebook page (www.facebook.com/dtlinc) or email to marketing@deckermail.com by Thursday, August 30, 2018. The winners will be announced during Driver Appreciation Week, September 9 – 15, 2018.
By submitting a video, you are agreeing for the footage to be used on Decker websites and social media.
---
Wells Fargo Retirement Week Message #5 (8/10/18)
---
Wells Fargo Retirement Week Message #4 (8/9/18)
---
Wells Fargo Retirement Week Message #3 (8/8/18)
---
Wells Fargo Retirement Week Message #2 (8/7/18)
---
August 2018 Newsletter (8/7/18)
---
Wells Fargo Retirement Week Message #1 (8/6/18)
---
Wells Fargo Retirement Week Announcement (8/6/18)
---
Important Letter from Mr. Decker Regarding Policy Changes (6/5/18)
---
2018 DOY and DOM Info & Prizes (6/1/18)
---
MeMD Reminder (4/6/18)
MeMD is a FREE app for all Decker drivers and employees who are eligible for benefits. Get free treatment when you are sick on the go, and don't have time to visit a doctor.
---
2017 Drivers of the Year (4/3/18)
---
2018 Referral Program (3/19/18)
We have added new incentives to the 2018 Referral Program, including a free year of Sirius XM and and a grand prize of a trip to Las Vegas for 2, OR the cash value of that prize! Our best drivers come from YOU, our Decker Drivers!
You may use the Transflo App to submit a referral. Speak to your Fleet Manager if you would like brochures to hand out to drivers.
---
How to Call Maintenance Support (3/13/18)
Please Note: If you need to contact Maintenance Support directly, please dial 515-574-4321. You can also dial 515-576-4141 or 800-247-2537 and follow the menu prompts (number 7 and then number 2); but please DO NOT dial the 4-digit extension 8250 to try to reach Maintenance Support. Extension 8250 DOES NOT work for calls made outside of the company phone system; these calls are being directed to Administration instead. This is frustrating for both the callers and the recipients.
Also, please remember that when dialing from a cell phone, you should always dial our local numbers instead of our toll-free numbers. Cell phones aren't charged for long distance calls, but we do get charged for receiving toll-free calls. Toll-free calls should really only be made when you are aware of long distance charges, such as calling from a landline, payphones, hotels, etc.
Thank you for your attention to this matter, we are striving to correct all bad habits and mis-dials within our phone system; this will make our call-flow much more efficient for everyone.
---
Driver Benefit Enhancements (2/27/18)
---
2017 Tax Reform and Your 401(k) (2/21/18)
Most of us are seeing a little extra income in our checks each week due to the Tax Reform of 2017 – instead of spending it, why not increase your 401(k) contribution rate? For every dollar you contribute, Decker will match it at 30% up to a maximum of 8%. Little changes can have a big impact on your retirement – log on to www.wellsfargo.com/retirement-plan and check out their retirement calculator to see what a difference even a small change can make! You can also increase your contribution rate on the website, or by calling Wells Fargo at 800-728-3123.
---
MeMD Mobile App (2/12/18)
One great benefit of Decker health insurance is the MeMD Mobile App. MeMD provides urgent care-type services over the phone using on-demand video exams. This is a free service for all Decker employees and drivers eligible for full time benefits. Download the app and use the plan code in the picture below to register today!
---
Open Road Drivers Plan (2/1/18)
Enroll in the Open Road Drivers Plan to help protect your livelihood!
---
December 2017 Speed Gauge Bonuses (1/15/18)
---
After-Hours Operations Moving into Office Building (1/10/18)
This week, the Fort Dodge After-Hours Operations Team will be relocated to the corporate office building. After regular business hours, the After-Hours Operations Team can be reached by calling the Decker local line (515-576-4141) or 800 number (800-247-2537) and then chose option #2. Likewise, you can reach the Maintenance Support Team by dialing option #3. They will continue to be located in the Maintenance Support Office (formerly known as the Guard's Office).
Please contact your Fleet Manager if you have any questions.
Thank you.
---
Wellmark Mobile App (12/11/17)
Make managing your health plan easy by downloading the Wellmark Mobile App.
---
401(k) Increase (11/22/17)
Your 401(k) participation through Decker is designed to help you achieve your retirement goals. We're very pleased to announce that effective 11/20/17, the company has increased the employer match from 20% to 30% (up to a maximum of 8% salary deferral).
For example, an employee who is making $35,000 and deferring 8% of their wage will see a $280 increase in Company match alone over the course of a year.
Current participants will receive the higher employer contribution beginning 11/20/17 – there is no need to do anything to receive this increase, the increased match will be calculated in your December 1 paycheck. However, if you'd like to increase your personal deferral, you can call Wells Fargo at 1-800-728-3123 or loginto your retirement account at www.wellsfargo.com/retirement. If you previously opted out of the 401(k) but would now like to participate, you may call Wells Fargo at the number above to be re-enrolled.
---
Click Here to see Past Newsletters
Click Here to see Past Drivers of the Month
Past Articles
Driver Pay Increase Announcements (12/13/17)
3rd Qtr. Referrals Update (11/3/17)
Important Letter from Don Decker (11/1/17)
Decker at the 2017 Special Olympics Truck Convoy (10/24/17)
2017 IMTA Management Conference (10/2/17)
2016 Million Mile Drivers & 2016 Drivers of the Year (10/16/17)
Driver Appreciation Week 2017 (9/11/17 – 9/15/17)
2017 Driver Council Announcement (7/17/17)
Open Road Legal Plan (6/29/17)
IA and MT Truck Driving Championships (6/22/17)
Truck Driving Championships (6/16/17)
Employee Assistance Program (EAP) (5/1/17)
Ft. Dodge Truck Wash Update (4-27-17)
Attention all Decker Professional Drivers, we have exciting news! (4/21/17)
Driver Referral Program update (4/11/17)
2017 Professional Driver of the Month/Driver of the Year program (3/10/17)
Driver Referral Program (2/28/17)
Grand Champion Professional Driver of the Year (2/24/17)
Decker 2016 Drivers of the Year (2/15/17)
On a cold day, Fort Dodge gives a formal warm welcome to the new Decker Development Park (12/15/16)
The Iowa Motor Truck Association recently recognized Decker Truck Line, Inc. for many awards at their annual Management Conference (12/16/16)