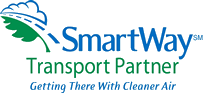 Smart Moves With SmartWay.
Let's be smart about how we use our resources. Let's care about our environment. Because we care, Decker Truck Line, Inc. has been a SmartWay member since 2006 using SmartWay tips and tools to reduce our environmental impact by investing in the cleanest and most fuel-efficient equipment. We believe that reducing empty miles and putting more freight on the trailer allows us to get more done with less; less fuel and less impact.
Smart Moves With Decker.
Partnering with Decker, you'll know you've made a decision to work with someone continuously working to reduce our shared environmental impact. By selecting a SmartWay carrier you'll feel confident you've made a decision that matters. For our SmartWay shipping partners, we understand that our performance matters to you.